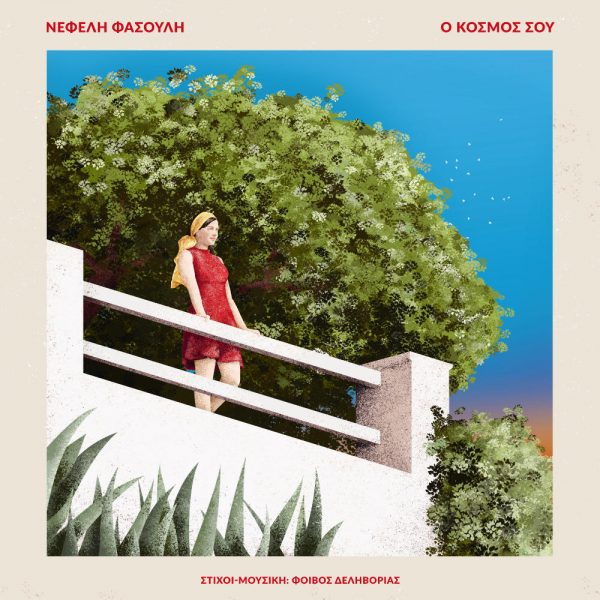 O Kosmos Sou
6,00€ – 24,00€
Release Date: June 11, 2021
CAT NO. UWFVN007

Press Release
Nefeli Fasouli releases her first personal album "O Kosmos Sou" through United We Fly, written and composed by Fivos Delivorias, and invites us to her world.
The album is released on digital format on cd and on two-sided LP record. Her "world" is somewhere between the jazz LPs she collects from a young age and the jukebox sounds that in a way can be heard under her steps as she is walking by the streets. Fivos Delivorias tried to reveal and express these two diverse aspects with his lyrics and music. He even signs the whole album, something he does for the first time for another performer.
The 10 tracks of the album are snapshots of a life in a city that perceives itself as a sea, or snapshots of a small room that feels like a big city. It all started with the track "Gia ena Kalokairi", which was released two years ago and without we could even notice it became the soundtrack of the last summer before the world changed as we knew it. Later on, the single "Volta" was released during this year and showed us how we could use "Move 6" in this new world properly. It all lead to the self-titled single "O Kosmos Sou", in which Nefeli was guided by the directional point of view of Alexandros Voulgaris (The Boy) who revealed her world to us. The indivisible music group, aka the great trio of Kostis Christodoulou – Sotiris Douvas – Joel Soto, along with the her beloved composer Antonis Apergis, Takis Paterelis, Kostas Pantelis and Dimitris Siampos, worked closely together to achieve the beautiful result that completes the profile puzzle of Nefeli Fasouli.
Dimitris Mentzelos participated in a song-tribute to the misunderstood "folk of Omonia" of the 70's, "Τha Sou Pw Egw" which will be released soon, accompanied with its representative video clip. The characterization "awesome" fits him richly.
The album was recorded at one take in the AntArt studio by Nikos Kollias and was delivered to Giannis Petrolias who mixed it with his personal touch and with excess inspiration.
Listen to the music of Nefeli Fasouli, and enter her world with attention and love. It is for sure that in the end she will leave you speechless with her voice.
Find the album at all the known digital platforms and the physical cd & vinyl product at the United We Fly e-shop.
Nefeli Fasouli

Credits:
Producer: Fivos Delivorias
Recording Engineer: Nikos Kollias
Mixing Engineer: Ioannis Petrolias
Executive Production: Dimitris Makris

Volta
Piano: Kostis Christodoulou
Drums: Sotiris Douvas
Baby Bass: Yoel Soto
Flute: Takis Paterelis
Percussion: Javier Lucero

Den ksero Me ti Miazei
Piano: Kostis Christodoulou
Drums: Sotiris Ntouvas
Baby Bass: Yoel Soto
Trombone: Vasilis Panagiotopoulos
Electric Guitar: Antonis Apergis

O Kosmos Sou
Classic Guitar: Fivos Delivorias
Acoustic Guitar: Dimitris Siampos
Piano: Kostis Christodoulou
I Foni
Piano: Kostis Christodoulou
Drums: Sotiris Ntouvas
Baby Bass: Yoel Soto
Electric Guitar: Antonis Apergis
Gia Ena Kalokairi
Piano: Kostis Christodoulou
Drums: Sotiris Ntouvas
Electric Guitar: Kostas Pantelis
Contrabass: Stamatis Stamatakis
Stin Aherusia
Piano: Kostis Christodoulou
Drums: Sotiris Ntouvas
Electric Bass: Yoel Soto
Vocals: Fivos Delivorias
Electric Guitar: Antonis Apergis
Otan tha peseis
Piano: Kostis Christodoulou
Drums: Sotiris Ntouvas
Baby Bass: Yoel Soto
Electric Guitar: Kostas Pantelis
Tha sou po ego (ft Dimitris Mentzelos)
Rap Vocals: Dimitris Mentzelos
Piano: Kostis Christodoulou
Drums: Sotiris Ntouvas
Electric Bass: Yoel Soto
Electric Guitar: Antonis Apergis
Chorus: Fivos Delivorias, Nikos Kollias, Kostis Christodoulou

Casa Malaparte
Piano: Kostis Christodoulou
Drums: Sotiris Ntouvas
Baby Bass: Yoel Soto

I Zoi Kai I Skini (ft Fivos Delivorias)
Vocals: Fivos Delivorias
Piano: Kostis Christodoulou
Drums: Sotiris Ntouvas
Baby Bass: Yoel Soto
Electric Guitar: Antonis Apergis
(c) 2021 United We Fly
(p) 2021 United We Fly