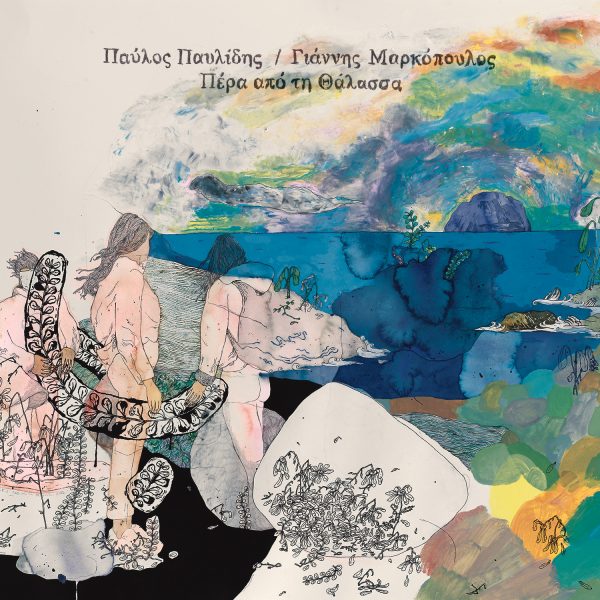 Pera Apo Ti Thalassa
8,00€ – 45,00€
Press Release
A year after the release of "Το Mavro Kouti", United we fly and Pavlos Pavlidis meet again, for the release of a new, unexpected album, that will give the audience a chance to navigate in the universe of Greek acclaimed composer Yiannis Markopoulos.
In his new album, "Pera apo ti Thalassa", Pavlos Pavlidis gives his own twist to 12 classic compositions by Markopoulos, infusing them with modern sounds.
The idea for this significant artistic encounter came from Yannis Markopoulos himself, when in 2019 through his daughter Lenga, expressed his wish for Pavlos Pavlidis to cover his songs.
Four years later, Pavlos Pavlidis attempts to revive and creatively reimagine 12 iconic songs of Yannis Markopoulos, along with a great team of musicians. Throughout the album, they experiment with Markopoulos' compositions, adding electric and synth sounds, loops and polyphonic singing. And they do so with full respect to the essence of the original music.
For this album, Pavlos Pavlidis works again with contemporary artist Stefanos Rokos, who created two remarkable art-works to specifically accompany the record.
Credits
The Strings Ensemble was recorded at Studio Praxis.
The Drums were recorded at Studio City and Studio Praxis.
The album was mastered by Giannis Christodoulatos at Sweetspot Productioms Studio.
Artwork by Stefanos Rokos
Layout by John Kontandreopoulos
Pera Apo Ti Thalassa
Music: Yannis Markopoulos
Lyrics: Errikos Thalassinos
Vocals, keyboards, programming: Pavlos Pavlidis
Vocals, keyboards, programming: Christos Lainas
Backing vocals: Eirini Arampatzi
Violin: Giorgos Panagiotopoulos
Violin: Epaminondas Filippas
Viola: Ilias Sdoukos
Cello: Michalis Porfyris
Production: Cristos Lainas, Pavlos Pavlidis
Mixing: Stavros Georgiopoulos, Christos Lainas
Orchestration: Ilias Nikolaidis
Kato Stis Margaritas T' Alonaki
Music: Yannis Markopoulos
Poetry: Odysseas Elytis
Vocals: Pavlos Pavlidis
Acoustic guitar, keyboards, programming: Christos Lainas
Electric guitar: Alekos Voulgarakis
Backing vocals: Eirini Koliousi
Backing vocals: Panagiota Koliousi
Backing vocals: Anthi Kyrkou
Production: Cristos Lainas, Pavlos Pavlidis
Mixing: Stavros Georgiopoulos, Christos Lainas
Orchestration: Ilias Nikolaidis
Ohi Den Prepi
Music: Yannis Markopoulos
Lyrics: Giorgos Hronas
Vocals, keyboards, programming: Pavlos Pavlidis
Vocals, keyboards, programming: Christos Lainas
Drums: Thanos Michailidis
Backing vocals, vocoder: Irene Skylakaki
Backing vocals: Eirini Koliousi
Backing vocals: Panagiota Koliousi
Backing vocals: Anthi Kyrkou
Violin: Giorgos Panagiotopoulos
Violin: Epaminondas Filippas
Viola: Ilias Sdoukos
Cello: Michalis Porfyris
Production: Cristos Lainas, Pavlos Pavlidis
Mixing: Stavros Georgiopoulos, Christos Lainas
Orchestration: Ilias Nikolaidis
I Roza I Naziara
Music: Yannis Markopoulos
Lyrics: Michalis Fakinos
Vocals, keyboards, programming: Pavlos Pavlidis
Bass: Apostolis Deligiannis
Drums: Thanos Michailidis
Backing vocals: Eirini Koliousi
Backing vocals: Panagiota Koliousi
Backing vocals: Anthi Kyrkou
Production: Pavlos Pavlidis
Mixing: Stavros Georgiopoulos
Orchestration: Ilias Nikolaidis
Gkremismena Spitia
Music: Yannis Markopoulos
Lyrics: Notis Pergialis
Vocals, electric guitar, keyboards, programming: Pavlos Pavlidis
Keyboards, programming: Christos Lainas
Drums: Dimitris Oikonomou
Violin: Giorgos Panagiotopoulos
Violin: Epaminondas Filippas
Viola: Ilias Sdoukos
Cello: Michalis Porfyris
Production: Cristos Lainas, Pavlos Pavlidis
Mixing: Stavros Georgiopoulos, Christos Lainas
Orchestration: Ilias Nikolaidis
Hilia Miria Kimata
Music: Yannis Markopoulos
Lyrics: K.H. Miris
Vocals, keyboards, programming: Pavlos Pavlidis
Keyboards, programming: Christos Lainas
Electric guitar: Alekos Voulgarakis
Backing vocals: Eirini Koliousi
Backing vocals: Panagiota Koliousi
Backing vocals: Anthi Kyrkou
Violin: Giorgos Panagiotopoulos
Violin: Epaminondas Filippas
Viola: Ilias Sdoukos
Cello: Michalis Porfyris
Production: Cristos Lainas, Pavlos Pavlidis
Mixing: Stavros Georgiopoulos, Christos Lainas
Orchestration: Trifon Koutsourelis
Milo Gia Ta Paidia Mou
Music: Yannis Markopoulos
Lyrics: Giorgos Skourtis
Vocals, keyboards, programming: Pavlos Pavlidis
Vocals, keyboards, programming: Christos Lainas
Vocals: Eleni Papli
Backing vocals: Eirini Koliousi
Backing vocals: Panagiota Koliousi
Backing vocals: Anthi Kyrkou
Violin: Giorgos Panagiotopoulos
Violin: Epaminondas Filippas
Viola: Ilias Sdoukos
Cello: Michalis Porfyris
Production: Cristos Lainas, Pavlos Pavlidis
Mixing: Stavros Georgiopoulos, Christos Lainas
Orchestration: Ilias Nikolaidis
Malamatenia Logia
Music: Yannis Markopoulos
Lyrics: Manos Eleftheriou
Vocals, keyboards, programming: Pavlos Pavlidis
Electric guitar, keyboards, programming: Christos Lainas
Production: Cristos Lainas, Pavlos Pavlidis
Mixing: Stavros Georgiopoulos, Christos Lainas
Orchestration: Ilias Nikolaidis
Ti Mera Tis Pentikostis
Music: Yannis Markopoulos
Lyrics: K.H. Miris
Vocals, keyboards, programming: Pavlos Pavlidis
Keyboards, programming: Christos Lainas
Bass: Dimitris Tsekouras
Violin: Giorgos Panagiotopoulos
Violin: Epaminondas Filippas
Viola: Ilias Sdoukos
Cello: Michalis Porfyris
Production: Cristos Lainas, Pavlos Pavlidis
Mixing: Stavros Georgiopoulos, Christos Lainas
Orchestration: Ilias Nikolaidis
Ta Logia Ke Ta Hronia
Music: Yannis Markopoulos
Lyrics: Manos Eleftheriou
Vocals: Pavlos Pavlidis
Keyboards, programming: Christos Lainas
Synth bass: Stavros Georgiopoulos
Drums: Thanos Michailidis
Backing vocals: Eirini Koliousi
Backing vocals: Panagiota Koliousi
Backing vocals: Anthi Kyrkou
Violin: Giorgos Panagiotopoulos
Violin: Epaminondas Filippas
Viola: Ilias Sdoukos
Cello: Michalis Porfyris
Production: Cristos Lainas, Pavlos Pavlidis
Mixing: Stavros Georgiopoulos, Christos Lainas
Orchestration: Ilias Nikolaidis
Mera Me Tin Imera
Music: Yannis Markopoulos
Lyrics: Giorgos Hronas
Vocals, keyboards, programming: Pavlos Pavlidis
Drums, percussion: Thanos Michailidis
Production: Pavlos Pavlidis
Mixing: Stavros Georgiopoulos
Orchestration: Ilias Nikolaidis
Gennithika
Music: Yannis Markopoulos
Lyrics: K.H. Miris
Vocals, keyboards, programming: Pavlos Pavlidis
Bass: Dimitris Tsekouras
Production: Pavlos Pavlidis
Mixing: Stavros Georgiopoulos
Orchestration: Ilias Nikolaidis
(c) 2023 United We Fly
(p) 2023 United We Fly